A dining/entertainment experience at sunset + durango
The Bend will be one of the largest dining, entertainment and shopping destination in the Southwest area of the valley. Since it was announced, The Bend has signed Electric Pickle, a three-acre, 10,000 SF pickleball complex, in addition to many dining establishments, including St. Felix, Sola Salon, Freed's Dessert Shop, The Great Greek, Aces & Ales Brewery and many more.
From entertainment and shopping to delicious food and novelties, we are excited to announce the arrival of our new establishments!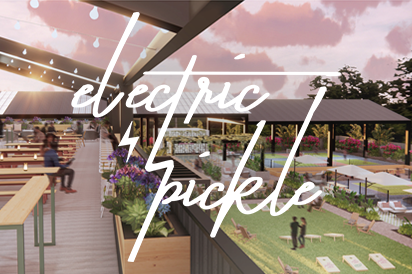 Electric Pickle will include nine pickleball courts, a two-story restaurant with a patio and rooftop bar, three bars, cornhole and bocce ball courts and a lawn for live music, yoga classes and other group gatherings.
(click anywhere to close)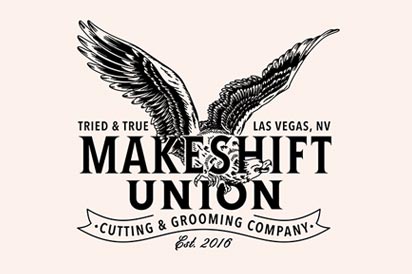 Since 2016, Makeshift Union has delivered a high level salon experience to the Las Vegas Arts District. With their new venture at The Bend, they will be integrating barbering into their already diverse menu of offered services.
(click anywhere to close)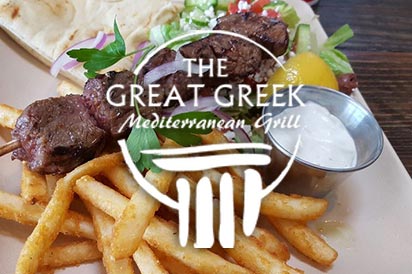 The Great Greek Mediterranean Grill is a fast-casual restaurant featuring authentic Greek recipes, made to order, with only the highest quality ingredients, fresh products and outstanding hospitality.
(click anywhere to close)
At The Great Greek Mediterranean Grill our philosophy is to bring food and people together to enjoy each other.
As third generation restaurateurs with over 30 years in the hospitality industry, the business of delicious food is in our blood; it's what we know, what we do, what we love! Our desire is to make each meal at The Great Greek Mediterranean Grill a memorable one.
The Great Greek takes pride in procuring the freshest ingredients and preparing them daily for you. Our recipes go back for generations, and we promise to serve you that consistent meal each time. We consider our staff as our children helping at those memorable Sunday dinners; they are family. You, our patrons, are the uncles, aunts, cousins, nieces and nephews who stop by to join in the weekly feast. You are family, too!
The Great Greek's pledge to you is to treat you like family, serve you a consistent, quality meal, and ensure we exceed your expectations.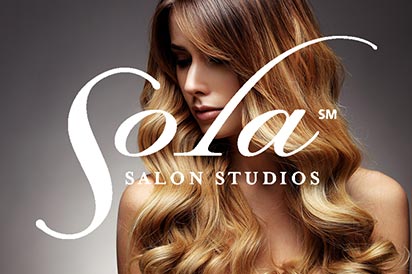 Salon professionals choose Sola for many reasons: to create a one-of-a-kind salon culture, set their own schedule, experience more privacy with guests and make more money, for starters. But mainly, it's about freedom and control. We provide high-end, move-in-ready studios combined with the support and tools you need to experience the freedom and benefits of salon ownership.
From beautiful studios to exclusive deals, education and technology, Sola empowers you to live your best life, both personally and professionally. So, join our community of more than 10,000 independent salon owners to get one step closer to living the life you love!
(click anywhere to close)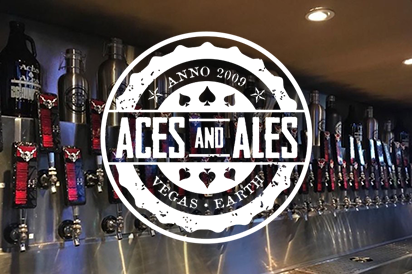 Since 2009, Aces and Ales has been known for its unrelenting commitment to quality. This opening marks Aces & Ales first-ever brewery. The 275-seat, 8,200-sq. ft. location will be family friendly and house a ten-barrel brewery, scratch "craft cuisine" kitchen, VIP/private events space and two separate dog-friendly outdoor patios.
In addition to Aces high-quality craft beer list and an extensive rare and vintage bottled beer list, a full bar will focus on hand-crafted artisanal cocktails using small batch spirits, as well as a collection of hand-picked wines from California and Italy. To-Go beer sales will be available in growlers, crowlers and specialty can releases throughout the year.
The restaurant's menu will offer some of the most popular dishes from the current Aces & Ales locations, also incorporating expanded entree selections (with vegetarian options for guests), along with a children's menu. The kitchen will feature seasonally inspired items, with a focus on cuisine that not only pairs well with the vast selection of beers but incorporates them in the recipes. Ingredients will be sourced from as many local producers as possible, assuring the peak of freshness and supporting those businesses that are committed to the stewardship of their land and long-lasting productivity of our seas.
(click anywhere to close)
A favorite of locals and visitors, alike, Freed's Bakery, has been serving up scrumptious sweets since 1959. Freed's Dessert Shop by Freed's Bakery offers an array of decadent pastries, cookies, cake slices, 7-inch round cakes and sheet cakes for all special occasions. Signature creations include Freed's strawberry shortcake, delicate white cake filled and iced with sweetened whipped cream and fresh sliced strawberries; cannoli, pastry dough filled with a blend of sweet ricotta, cinnamon, and chocolate chips; and Parisian cake, rich chocolate cake layered and iced with Belgian chocolate blended whipped cream and topped with chocolate shavings.
(click anywhere to close)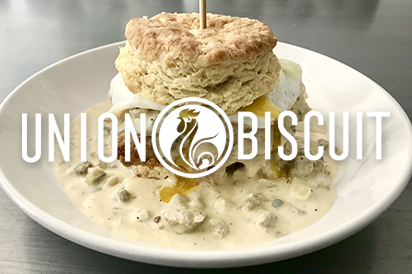 This new scratch kitchen eatery will feature breakfast and brunch, with a menu to include biscuit sandwiches and several dishes with an Asian influence. This will mark locals the first restaurant for Kyung and Honey Lee.
(click anywhere to close)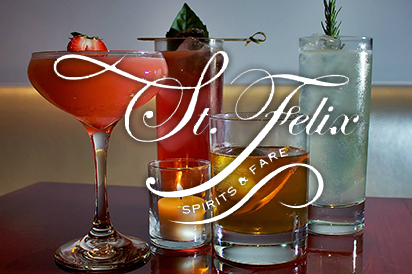 Saint Felix is a sophisticated bar/restaurant concept from Southern California highlighting award-winning craft cocktails and exemplary food plates.
Crack a smile, leave your hangups at the door, and come into our world.
(click anywhere to close)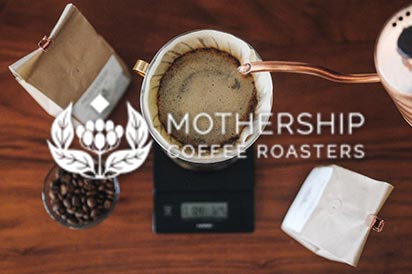 Mothership is very apparently a specialty coffee spot. It's starkly white with a five-item menu and hip mural crawling up one wall, and stacks of pastries and a chocolates tower behind a slab of glass. There's a gleaming, polished three-group Synesso Hydra sitting on the counter, a Mahlköng K30 grinder, and a shiny new IR-12 Diedrich roaster just out of sight. Walking from the baking desert heat, it feels like you've entered a different world, or maybe stepped through a portal into a new Blue Bottle. And Walters will be the first to admit that his trips to other coffee shops influenced his aesthetic, but this isn't just an homage to other places, this is Walter's coffee shop, and a new frontier for the local Las Vegas coffee scene. The pastries are baked in-house (try the scone with onion jam if you can), the chocolates (from Happy Ending Chocolate) are put together by one of Walter's best friends, and the mural on the wall painted by Walter's sister, well-known artist Amy Sol. Walter's hung the shelves and designed the menu and even created a new form of cold brew made with hops. In San Francisco stocking your shelves with local companies and making things from scratch is the norm, in Vegas, a city that puts Starbucks on a pedestal, Mothership is almost revolutionary.
(click anywhere to close)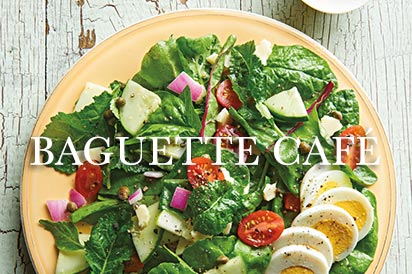 Casual, contemporary cafe serving French-informed breakfast & lunch specialties pared with Illy coffee.
(click anywhere to close)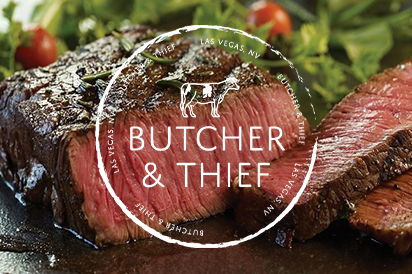 Butcher & Thief is a neighborhood steakhouse and bar bringing exceptional value back to the steak and wine dining experience.
(click anywhere to close)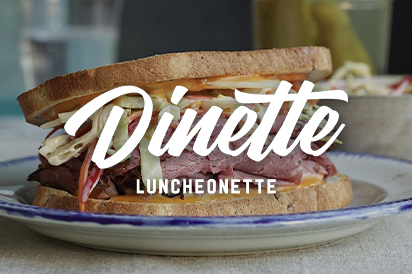 Dinette Luncheonette is a thoughtful reimagination of the classic diner. Kicked up classics in a welcoming, warm and inclusive environment.
(click anywhere to close)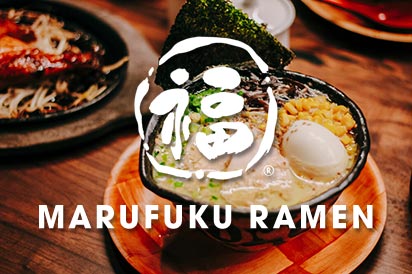 Marufuku proudly serves the authentic Hakata-style Tonkotsu ramen — featuring milky and umami rich broth made from boiling pork bones for long hours, an ultra-thin artisanal noodles that match perfectly with the broth, and Cha-shu made from specially selected pork.
Rich white chicken paitan ramen with chicken Cha-shu is also featured on the menu along with variety of mini-sized rice bowls, izakaya-style appetizers, and premium beer & sake.
(click anywhere to close)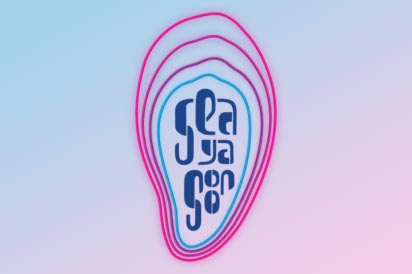 A bite of crudo mingles with a sip of champagne. The crackle of tako on a charcoal grill floats over the essence of aquavit. A sip of thai chile -spiked mezcal; a slurp of sea-salty heaven. This is a raw bar, electrified and re - invented. Dive deep; the oyster is your world.
(click anywhere to close)
Click to view larger image.
Features include
Three-acre, 10,000 SF pickleball complex
158,511 total square feet
Central gathering courtyard for entertainment
More than 325 parking spaces and an additional parking garage in Phase 2
Contemporary architecture and angled roof lines
Use of synthetic wood elements, linear block features and smooth finished stucco
The Bend
at Sunset and Durango | Las Vegas, NV
702.997.5711
retail@thebend.vegas